ZAG-966C 5 inch H.D. Angle Grinder With Central Vacuum Wheel Guard
1.3 HP Motor for stall resistance.

Safety lock-off throttle lever.

One piece housing reduces maintenance costs.

Heavy duty air cooled spiral gears and double bearings for durability.

Ergonomic composite grip for comfort and reduced vibration.

ANSI compliance wheel guard design.
Best for: Continuous use, heavy duty surface preparation, and material removal.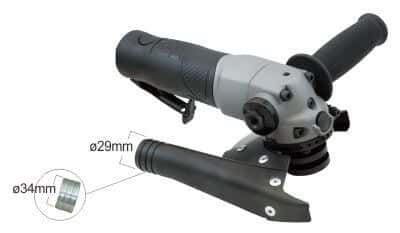 Speed Governor

Safety throttle Lever

Swivel Side Exhaust

Side Handle for left and right

Spindle Lock

The trigger can be opened and adjust the shroud up to 55° so as to avoid from the hurt during operating
Specification:
Spindle Thread: 5/8″-11, M14x2

Grinding Wheel: 5″

Net Weight: 4(1.8) Ibs(kg)

Length: 9(230) inch(mm)

rpm: 11000

Air Inlet: 1/4 inch

Min.Hose Size: 3/8(10) inch(mm)

Avg. Air Cons.: 3.8 cfm
Model

Spindle




Thread

Grinding




Wheel

Net Weight




lbs(kgs)

Length




inch(mm)

rpm

Air Inlet




inch

MinchHose




Size




inch(mm)

Avg.




Air Cons.




cfm

ZP321R

3/8″-24, M10x1.5

4″

3.1(1.4)

8.2(210)

10000

1/4

3/8(10)

3.5

ZP322R

5/8″-11, M14x2

4-1/2″

3.1(1.4)

8.2(210)

10000

1/4

3/8(10)

3.5

ZP323R

5/8″-11, M14x2

5″

3.1(1.4)

8.2(210)

10000

1/4

3/8(10)

3.5

ZAG-965R

3/8″-24, M10x1.5

4″

4(1.8)

9(230)

11000

1/4

3/8(10)

3.8

ZAG-9656R

5/8″-11, M14x2

4-1/2″

4(1.8)

9(230)

11000

1/4

3/8(10)

3.8

ZAG-966R

5/8″-11, M14x2

5″

4(1.8)

9(230)

11000

1/4

3/8(10)

3.8

ZAG-966C

5/8″-11, M14x2

5″

4(1.8)

9(230)

11000

1/4

3/8(10)

3.8