ZAH-594 Shock Reduced Air Hammer-
Round
Extreme Low Vibration
Features
Designed with following patents for assuring the best shock reduction and operator's comfort.




1) Portable pneumatic tool assembled with module units.




2) Suspension vibration-reducing means for portable pneumatic tools.

Alloy steel made impact parts, heat-treated for durability.

Quick Change Retainer for simple accessory changes.

Ergonomic handle with rubber made exhaust muffler for added operator's comfort.

Optional patented universal swivel air inlet joint for the best maneuverability of the tool.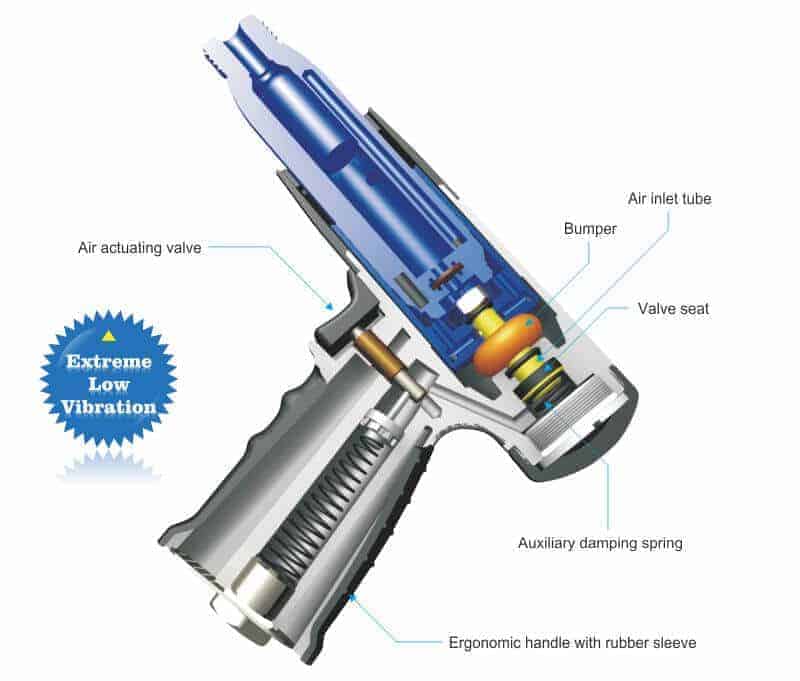 Bumper

Air inlet tube

Valve seat

Air actuating valve

Auxiliary damping spring

Ergonomic handle with rubber sleeve
Specification:
Chisel Shank Opening: 0.401(10.2) inch(mm)

Bore Diameter: 3/4(19) inch(mm)

Stroke Length: 3-1/2(89) inch(mm)

Blows Per Minute: 2100 bpm

Avg. Air Cons.: 5.65(160) cfm(l/min)

Net Weight: 4.6(2.1) lbs(kgs)

Air Inlet Size: 1/4 PT/NPT

Operating Air Pressure: 90(6.2) PSI(bar)

Min. Hose Size: 3/8(10) inch(mm)

Vibration: 5.5 m/s2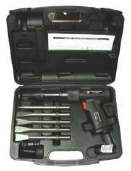 ZAH-594HK
Accessories
Shock Reduced Air Hammer X 1

192913 Retainer Spring

CH641RL 7″ Single End Cutter X 1




CH645RL 7″ Cut Off Chisel X 1




CH649RL 7″ Rivet Cutter Chisel X 1




CH672RL 7″ Special Panel Cutter X 1




CH627RL 7″ Shear Chisel X 1
Model

Chisel Shank




Opening




inch(mm)

Bore




Diameter




inch(mm)

Stroke




Length




inch(mm)

Blow Per




Minch




bpm

Avg.




Air Cons




cfm(l/min)

Net




Weight




lbs(kgs)

Minch Hose




Size




inch(mm)

Vibration




m/s²

ZAH-392

0.401(10.2)

3/4(19)

1-31/32(50)

4000

15.2(430)

3.4(1.5)

3/8(10)

2.5

ZAH-392H

0.410(10.4)

3/4(19)

1-31/32(50)

4000

15.2(430)

3.4(1.5)

3/8(10)

2.5

ZAH-393

0.401(10.2)

3/4(19)

2-5/8(66)

3000

4.95(140)

4(1.8)

3/8(10)

10

ZAH-393H

0.410(10.4)

3/4(19)

2-5/8(66)

3000

4.95(140)

4(1.8)

3/8(10)

10

ZAH-394

0.401(10.2)

3/4(19)

3-1/2(89)

2100

5.65(160)

4.6(2.1)

3/8(10)

5.5

ZAH-394H

0.410(10.4)

3/4(19)

3-1/2(89)

2100

5.65(160)

4.6(2.1)

3/8(10)

5.5

ZAH-592

0.401(10.2)

3/4(19)

1-31/32(50)

4000

15.2(430)

3.4(1.5)

3/8(10)

2.5

ZAH-592H

0.410(10.4)

3/4(19)

1-31/32(50)

4000

15.2(430)

3.4(1.5)

3/8(10)

2.5

ZAH-593

0.401(10.2)

3/4(19)

2-5/8(66)

3000

4.95(140)

4(1.8)

3/8(10)

10

ZAH-593H

0.410(10.4)

3/4(19)

2-5/8(66)

3000

4.95(140)

4(1.8)

3/8(10)

10

ZAH-594

0.401(10.2)

3/4(19)

3-1/2(89)

2100

5.65(160)

4.6(2.1)

3/8(10)

5.5

ZAH-594H

0.410(10.4)

3/4(19)

3-1/2(89)

2100

5.65(160)

4.6(2.1)

3/8(10)

5.5

ZNS-392

0.401(10.2)

3/4(19)

1-31/32(50)

4000

15.2(430)

3.4(1.5)

3/8(10)

2.5

ZCH-394B

0.401(10.2)

3/4(19)

3-1/2(89)

2100

6(170)

4.6(2.1)

3/8(10)

5.3
*(H)-Chisel Shank Opening 0.410″(10.4mm) *Operating Air Pressure: 90psi/6.2bar. *Air Inlet Size: 1/4″ PT/NPT