ZF-1T Vibration Reduced Air Lapper-
Safety Trigger
Extreme Low Vibration
Features
High frequency with 1mm, 5mm & 10mm strokes for various kind of surface finishing works such as precise and delicate lapping of die & mold surface, finishing in confined area and general filing works.

Designed with following patents to ensure extreme low vibration and operator's comfort.




。Portable Pneumatic Tool assembled with module units.




。Suspension Vibration-Reducing means for portable pneumatic tools.

Throttle type flexible hose equipped for the best maneuverability of the tool.

Adjustable side exhaust directs air away from operators.

Rubber sleeve designed for operator's comfort.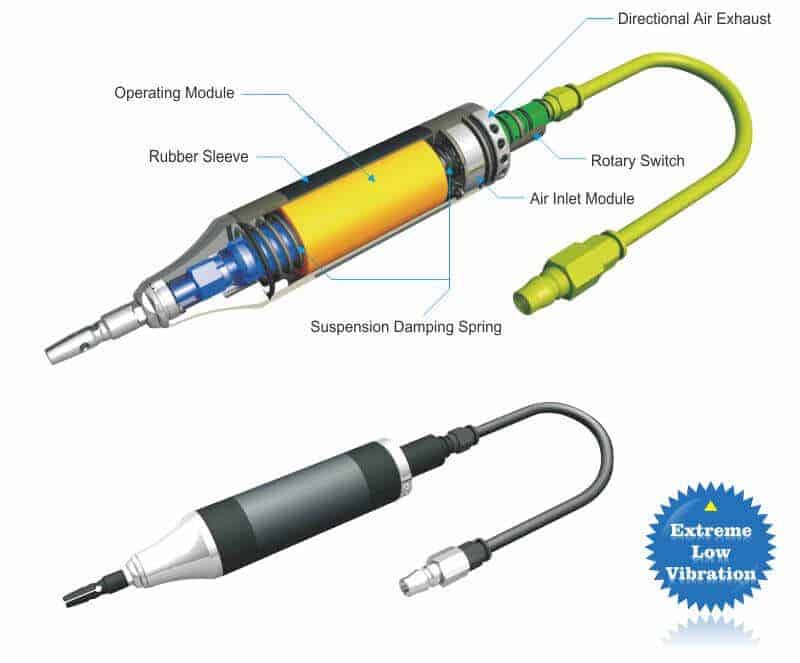 Operating Module

Rubber Sleeve

Suspension Damping Spring

Directional Air Exhaust

Rotary Switch

Air Inlet Module

All rotary type Switch can be converted to safety lever type Switch upon request.
Features
Ideal for precise and delicate filing castings, also perfect for lapping die and mold surface.

High frequency with 0.5~1mm stroke for ZF-1, ZF-1T, ZF-1M, ZF-1MT

High frequency with 3~5mm stroke for ZF-5, ZF-5T, ZF-5M, ZF-5MT

High frequency with 7~10mm stroke for ZF-10, ZF-10T, ZF-10M, ZF-10MT
Specification:
Blows Per Minute: 21000 bpm

Stroke Length: 0.5~1 mm

Avg. Air Cons.: 4(120) cfm(l/min)

Net Weight: 1.26(0.57) lbs(kgs)

Air Inlet Size: 1/4 inch-NPT/PT

Min. Hose Size: 3/8(10) inch(mm)

Vibration: 0.8 m/s2

Sound Pressure: 72 dB(A)
Diamond File For ZF-1, ZF-1T, ZF-1M, ZF-1MT Type Air Lapper, 3mm Shank Diameter

201952
2mm Rectangular Diamond File

201954
4mm Rectangular Diamond File

201956
6mm Rectangular Diamond File

Hard Sponge Sandpaper block
SB120-5

#120 100mm x 70mm x 25mm

SB180-5

#180 100mm x 70mm x 25mm

SB220-5

#220 100mm x 70mm x 25mm

SB280-5

#280 100mm x 70mm x 25mm
COMPARISON CHART WITH COMPETITIVE DESIGNS IS AVAILABLE UPON REQUEST.
Model

Blows




Per Minute




bpm

Stroke




Length




mm

Avg.




Air Cons.




cfm(l/min)

Net Weight




lbs(kgs)

Air Inlet




Size




inch-NPT/PT

Minch




Hose Size




inch(mm)

Vibration




m/s²

Sound




Pressure




dB(A)

ZF-1

21000

0.5~1

4(120)

1.26(0.57)

1/4

3/8(10)

0.8

72

ZF-1T

21000

0.5~1

4(120)

1.26(0.57)

1/4

3/8(10)

0.8

72

ZF-5

11000

3~5

2.82(80)

1.54(0.7)

1/4

3/8(10)

3.6

83

ZF-5T

11000

3~5

2.82(80)

1.54(0.7)

1/4

3/8(10)

3.6

83

ZF-10

9000

7~10

3.89(110)

1.65(0.75)

1/4

3/8(10)

4.6

71

ZF-10T

9000

7~10

3.89(110)

1.65(0.75)

1/4

3/8(10)

4.6

71

ZF-1M

21000

0.5~1

4(120)

0.73(0.33)

1/4

3/8(10)

0.8

72

ZF-1MT

21000

0.5~1

4(120)

0.73(0.33)

1/4

3/8(10)

0.8

72

ZF-5M

11000

3~5

2.82(80)

0.73(0.33)

1/4

3/8(10)

3.6

83

ZF-5MT

11000

3~5

2.82(80)

0.73(0.33)

1/4

3/8(10)

3.6

83

ZF-10M

9000

7~10

3.89(110)

0.73(0.33)

1/4

3/8(10)

4.6

71

ZF-10MT

9000

7~10

3.89(110)

0.73(0.33)

1/4

3/8(10)

4.6

71
*Operating Air Pressure: 90psi/6.2bar