ZP313 Air Die Grinder
Ergonomic cushion-grip handle-Insulates against cold temperature in the hand, helps ease user fatigue, and insulates against vibration.

Power/Speed Regulator-Allows for easy rpm adjustment.

Rear exhaust-Directs the exhaust away from the user and the working areas.

Twin-Bearing Spindle-This quality design results in super precise spindle concentricity less than 0.05mm and minimal vibration.

The ZP313 Die Grinder is suitable for Many automotive and industrial high speed grinding applications. The grinder can be used to clean dies, rotors, backing plates and brake pad mounts.

Grind valve seats, dress welds and enlarge holes.

Can use with 1/4″(6mm) or 1/8″(3mm) grinding accessories.
Specification:
0.5HP Die Grinders

Collet Size: 1/4(6) inch(mm)

Net Weight: 1.3(0.6) Lbs.(kg)

Length: 7(178) inch(mm)

Free Speed: 22000 rpm

Air Inlet Size: 1/4 inch-NPT/PT

Min. Hose Size: 3/8(10) inch(mm)

Avg. Air Cons.: 3.7 cfm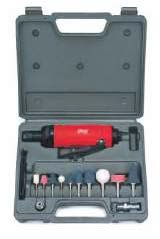 ZP313K Air Die Grinder Tool Kit
Specification:
1 pc Die Grinder

2 pcs Spanners

5 pcs 1/4″ Shank Grinding Stones

5 pcs 1/8″ Shank Grinding Stones

1 pc 1/8″ Collet

1 pc Nipple

1 pc Blow Case
Model

Collet Size




inch(mm)

Net




Weight




lbs(kgs)

Length




inch(mm)

rpm

Air Inlet




Size




inch-NPT/PT

Minch Hose




Size




inch(mm)

Avg. Air




Consumption




cfm

ZDG-231

1/4(6)

0.9(0.4)

6.1(155)

25000

1/4

3/8(10)

3

ZDG-2319

1/4(6)

1.3(0.6)

7.3(185)

7600

1/4

3/8(10)

3

ZDG-231AL

1/4(6)

1.3(0.5)

8.6(220)

25000

1/4

3/8(10)

2.6

ZDG-231L

1/4(6)

1.5(0.7)

10.1(259)

25000

1/4

3/8(10)

2.6

ZP313

1/4(6)

1.3(0.6)

7(178)

22000

1/4

3/8(10)

3.7

ZDG-356A

1/4(6)

1.5(0.7)

7.8(200)

2600

1/4

3/8(10)

3.7

ZDG-376A

1/4(6)

1.5(0.7)

7.8(200)

3600

1/4

3/8(10)

3.7

ZDG-376AL

1/4(6)

2.2(1)

12(305)

3600

1/4

3/8(10)

3.5

ZP314

1/4(6)

1.5(0.7)

9.4(240)

22000

1/4

3/8(10)

3.7

ZP315

1/4(6)

1.8(0.8)

11(280)

22000

1/4

3/8(10)

3.7