ZTU-391 Non-Vacuum Rust & Paint Removal Tools-
Low Noise
Innovative 180° rotational handle for precise leverage and

control.

Unique double side safety guards and integrated dust extraction.

system for safe and clean operation.

Planetary gear system for increased torque.

Ergonomic cushion grip insulates against cold and vibration.

Swivel exhaust outlet in rear of tool allows easy operations.

Paddle style trigger for precise speed control.

Increase the baffle and prevent hands from being injured.

Integrated Safety and Dust Extraction System.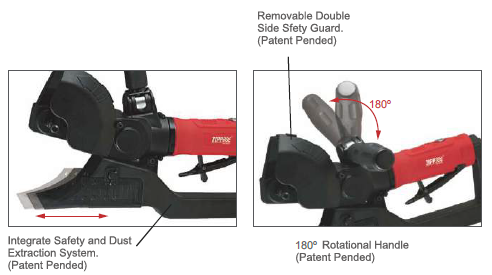 Integrate Safety and Dust Extraction System.(Patent Pended)

Removable Double Sided Safety Guard.(Patent Pended)

180° Rotational Handle.(Patent Pended)
Specification:
Spindle Thread: 9 mm

Net Weight: 2.7(1.2) lbs(kgs)

Length: 10(254) in.(mm)

Free Speed: 4000 rpm

Air Inlet Size: 1/4 inch-NPT/PT

Min. Hose Size: 3/8(10) inch(mm)

Avg. Air Cons.: 3.5 cfm

ZTU-391K


Non-Vacuum Rust & Paint Removal Tools Kit

Specifications
1 pc Paint Removal Tool

1 pc Rubber Eraser Wheel

1 pc Stripping Wheel

1 pc Hub

3 pcs Wire Wheel

1 pc Nipple

1 pc Hex

1 pc Screw


1 pc Blow Molded Cast
Model

Spindle




Thread




mm

Weight




lbs(kgs)

Length




inch(mm)

rpm

Air Inlet




Size




inch-NPT/PT

Minch




Hose Size




inch(mm)

Avg.




Air Cons.




cfm

ZTU391

9

2.7(1.2)

10(254)

4000

1/4

3/8(10)

3.5

ZTU391C

9

2.7(1.2)

10(254)

4000

1/4

3/8(10)

3.5

ZTU391S

9

2.7(1.2)

10(254)

4000

1/4

3/8(10)

3.5
ZST-BTRE115-30




Rubber eraser wheel




Wheel diameter 4″(103mm)




Wheel width 1.2″(30mm)

ZST-BTRE115-30A


ubber based wheel
Wheel diameter 4″(103mm)
Wheel width 1.2″(30mm)


ZBT246655


ubber eraser wheel
Wheel diameter 4″(103mm)
Wheel width 1.2″(30mm)


ZST-BT246652


Stripping wheel
Wheel diameter 4″(103mm)
Wheel width 1.2″(30mm)


ZBTWW103-23-7


Wire wheel(Coarse)
Wire diameter 0.028″(0.7mm)
Wheel diameter 4″(103mm)
Wheel width 0.91″(23mm)


ZBTWW103-23-5.5


Wire wheel(Medium)
Wire diameter 0.019″(0.5mm)
Wheel diameter 4″(103mm)
Wheel width 0.91″(23mm)


ZBTWW103-23-5


Wire wheel(Fine)
Wire diameter 0.019″(0.5mm)
Wheel diameter 4″(103mm)
Wheel width 0.91″(23mm)


ZST-BT246655A-K03


Hub
Hub width 0.91″(23mm)


ZBTWW103-23-7ASS


Stainless steel wire(Coarse)
Wire diameter 0.028″(0.7mm)
Wheel diameter 4″(103mm)
Wheel width 0.91″(23mm)


ZBTWW103-23-5ASS


Stainless steel wire(Medium)
Wire diameter 0.019″(0.5mm)
Wheel diameter 4″(103mm)
Wheel width 0.91″(23mm)


ZBTWW103-23-5SS


Stainless steel wire(Fine)
Wire diameter 0.019″(0.5mm)
Wheel diameter 4″(103mm)
Wheel width 0.91″(23mm)


ZBTWW103-11-7AM


Wire wheel(Coarse)
Wire diameter 0.028″(0.7mm)
Wheel diameter 4″(103mm)
Wheel width 0.43″(11mm)


ZBTWW103-11-5AM


Wire wheel(Medium)
Wire diameter 0.019″(0.5mm)
Wheel diameter 4″(103mm)
Wheel width 0.43″(11mm)


ZBTWW103-11-5M


Wire wheel(Fine)
Wire diameter 0.019″(0.5mm)
Wheel diameter 4″(103mm)
Wheel width 0.43″(11mm)


ZST-BT28068-K03


Hub
Hub width 0.43″(11mm)


ZBTWW103-11-7ASS


Stainless steel wire(Coarse)
Wire diameter 0.028″(0.7mm)
Wheel diameter 4″(103mm)
Wheel width 0.43″(11mm)


ZBTWW103-11-5ASS


Stainless steel wire(Medium)
Wire diameter 0.019″(0.5mm)
Wheel diameter 4″(103mm)
Wheel width 0.43″(11mm)


ZBTWW103-11-5SS


Stainless steel wire(Fine)
Wire diameter 0.019″(0.5mm)
Wheel diameter 4″(103mm)
Wheel width 0.43″(11mm)