ZDG-236 Mini Air Angle Die Grinder
Ergonomic cushion-grip handle-Insulates against cold temperature in the hand, helps ease user fatigue, and insulates against vibration.

Power/Speed Regulator-Allows for easy rpm adjustment.

Rear exhaust-Directs the exhaust away from the user and the working areas.

Twin-Bearing Spindle-This quality design results in super precise spindle concentricity less than 0.05mm and minimal vibration.

The ZDG-236 Mini Angle Die Grinder allows easy handling in confined areas, and is capable of using carbide burrs and other attachments for polishing, porting, and light metal removal.
Specification:
Collet Size: 1/4(6) inch(mm)

Net Weight: 1.1(0.5) Lbs.(kg)

Length: 6.1(155) inch(mm)

Free Speed: 20000 rpm

Air Inlet Size: 1/4 inch-NPT/PT

Min. Hose Size: 3/8(10) inch(mm)

Avg. Air Cons.: 3cfm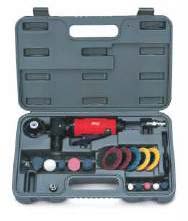 ZDG-236K Mini Angle Die Grinder Tool Kit
Specification:
1 pc Angle Die Grinder

1 pc 2″ Roloc Pad

5 pcs 2″ Roloc Scotch Discs

1 pc 1/8″ Collet

1 pc Nipple

2 pcs Spanners

5 pcs 1/8″ Shank Grinding Stones

5 pcs 1/4″ Shank Grinding Stones

1 pc Blow Case
Model

Collet Size




inch(mm)

Net




Weight




lbs(kgs)

Length




inch(mm)

rpm

Air Inlet




Size




inch-NPT/PT

Minch Hose




Size




inch(mm)

Avg. Air




Consumption




cfm

ZDG-236

1/4(6)

1.1(0.5)

6.1(155)

20000

1/4

3/8(10)

3

ZP319

1/4(6)

1.5(0.7)

7(178)

18000

1/4

3/8(10)

3.7

ZDG-3226

1/4(6)

1.5(0.7)

7(178)

18000

1/4

3/8(10)

3.7

ZAG-341

Grinding Wheel 2″

1.5(0.7)

7(178)

15000

1/4

3/8(10)

3.5