ZRN210 Composite Air Rivet Nut Tool-
M10
Clam Shell Composite Housing
Features
Designed with patented "Module units assembled in composite clam shell housing" for easy tool service.

Ergonomic texture coated composite housing for operator's comfort.

Less friction loss along the air passage to increase tool power & performance.

Module unit mechanism enables more common parts to be used in similar designed tools.

Rocker type trigger and both left or right hand side air inlet for ease of operational control.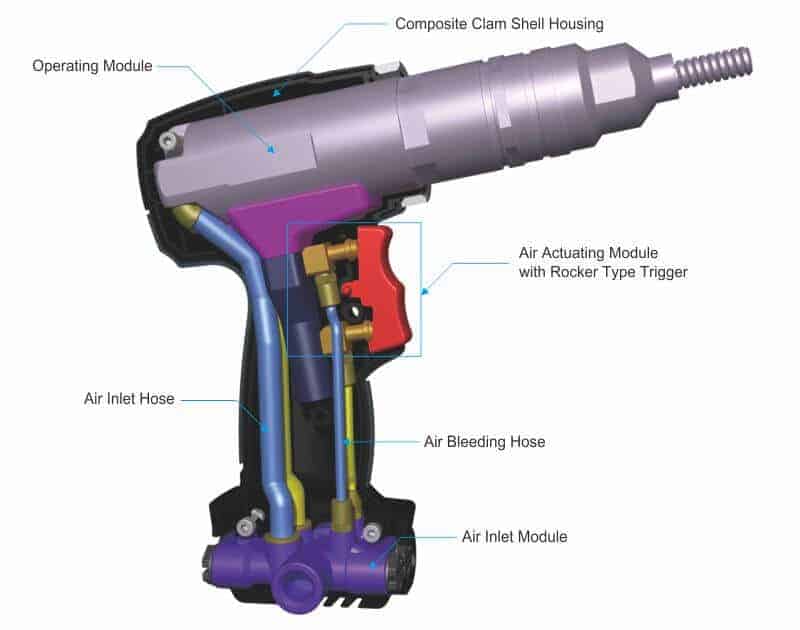 Composite Clam Shell Housing

Operating Module

Air Actuating Module with Rocker Type Trigger

Air Inlet Hose

Air Bleeding Hose

Air Inlet Module
Specification:
Max. Rivet Nut Setting Capacity: M10 Hex./All Materiais

Free Speed: 280 rpm

Net Weight:3.08(1.4) Ibs(kgs)

Avg. Air Cons.: 9.9(280) cu.ft/stroke

Air Inlet Size: 1/4 inch-NPT/PT

Min. Hose Size: 3/8(10) inch(mm)

Sound Pressure: 86 dBA

Vibration: <2.5 m/s2
Optional Nose Assembly

Size

B-Type




(Screw-On)

Q-Type




(Quick Change)

Model for other sizes:

M10

P/N: 210800B

P/N: 210800Q

ZRN210 or ZRN210Q

M12

P/N: 212800B

ZRN212

1/2″-13

P/N: 12C800B

ZRN213

3/8″-16

P/N: 238800B

P/N: 238800Q

ZRN216 or ZRN216Q

3/8″-24

P/N: 38F800B

ZRN224
* There is ONLY one size of rivet head come along with each tool, please specify the model you require when ordering.
Model

Max. Rivet Nut




Setting Capacity




Round Rivet Nut(mm)

Free Speed




rpm

Net Weight




lbs(kgs)

Avg.




Air Cons.




cfm(l/min)

Air Inlet




Size




inch-NPT/PT

Min. Hose




Size




inch(mm)

Sound




Pressure




dB(A)

Vibration




m/s²

ZRN106

M6

Round/Steel

1500

3.06(1.39)

20.3(580)

1/4

3/8(10)

86

<2.5

ZRN106Q

M6

Round/Steel

1500

2.42(1.10)

20.3(580)

1/4

3/8(10)

86

<2.5

ZRN508

M8

Hex./All Materials

500

3.08(1.4)

20.3(580)

1/4

3/8(10)

86

<2.5

ZRN508Q

M8

Hex./All Materials

500

2.50(1.13)

20.3(580)

1/4

3/8(10)

86

<2.5

ZRN210

M10

Hex./All Materials

280

3.08(1.4)

20.3(580)

1/4

3/8(10)

86

<2.5

ZRN212

M12

Hex./Steel

280

3.08(1.4)

20.3(580)

1/4

3/8(10)

86

<2.5