ZS311 Air Body Saw-
Metal Housing
Features
Designed with following patents to assure extreme low vibration and operator's comfort.




1)Portable pneumatic tool assembled with module units in clam shell composite housing.




2)Suspension vibration-reducing means for portable pneumatic tools.

Engineering plastic made clam-shell housing designed for easy service.

Patented universal swivel air inlet joint for the best maneuverability of the tool.

Safety trigger to prevent accidental start ups and provide operator's comfort.

Rear exhaust directs air away from work-piece.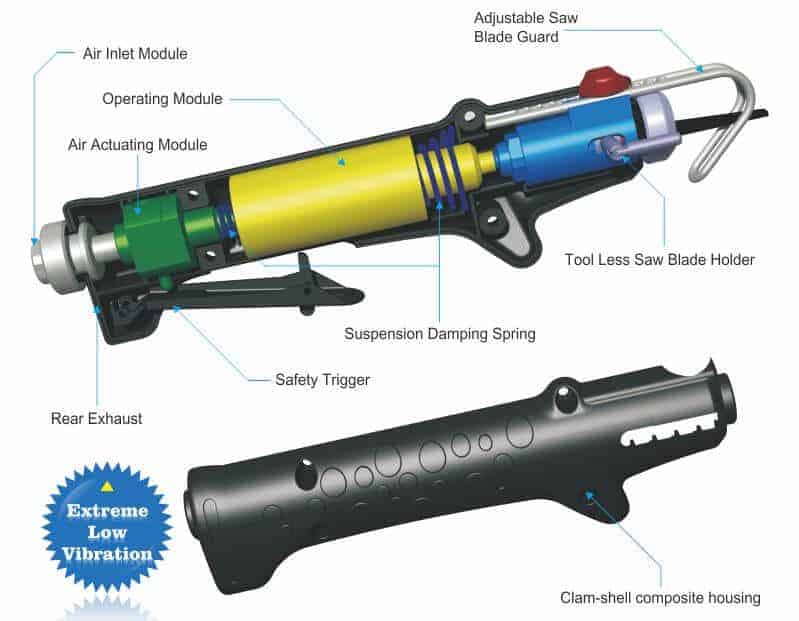 Adjustable Saw Blade Guard

Tool Less Saw Blade Holder

Suspension Damping Spring

Operating Module

Air Actuating Module

Air Inlet Module

Safety Trigger

Rear Exhaust

Clam-shell composite housing
Specification:
Blows Per Minute: 9500 bpm

Stroke Length: 10 mm

Avg. Air Cons.: 3.5(100) cfm(l/min)

Net Weight: 1.5(0.7) lbs(kgs)

Air Inlet Size: 1/4 inch-NPT/PT

Min. Hose Size: 3/8(10) inch(mm)

Vibration: 1.8 m/s2

Sound Pressure: 85 dB(A)

ZS311K
Kit include:
Bi-metal blades




18T X 5




24T X 5




32T X 5
For ZS311, ZS311M, ZS315, ZS319, ZS319H, ZS319-T2R, ZS319-T2B
*10mm stroke models are good for 2mm steel sheet cutting.
*25mm stroke models are good for 5mm steel sheet or pipe cutting.
COMPARISON CHART WITH COMPETITIVE DESIGNS IS AVAILABLE UPON REQUEST.
Model

Blow Per




Min




bpm

Stroke




Length




mm

Avg.




Air Cons.




cfm(l/min)

Net




Weight




lbs(kgs)

Air Inlet




Size




inch-NPT/PT

Minch




Hose Size




inch(mm)

Vibration




m/s²

Sound




Pressure




dB(A)

ZS311

9500

10

3.5(100)

1.5(0.7)

1/4

3/8(10)

1.8

85

ZS317

5000

25

3(90)

2.1(0.96)

1/4

3/8(10)

3.9

85

ZS319

9500

10

3(90)

1.12(0.51)

1/4

3/8(10)

3.7

85

ZS329

5000

25

2.8(80)

1.68(0.76)

1/4

3/8(10)

4.3

85

ZS319H

9500

10

3.5(100)

1.12(0.51)

1/4

3/8(10)

3.7

85

ZS329H

5000

25

3.5(100)

1.68(0.76)

1/4

3/8(10)

4.3

85
*Operating Air Pressure: 90psi/6.2bar