ZS350D Industrial Air Saw
Extreme Low Vibration
Applications
The most powerful Industrial Air Saw for clean, burr-free cuts with standard hacksaw blades in serving a wide range of industries and emergency services where reliability and durability are really matter such as Petrochemicals, Oil Rigs, Power Stations, Public Transport Facilities, Coal Mines, Fire Brigades, Airways & Airport Facilities, Railway, Garages, Car Manufacturers, Commercial Vehicle Builders, Boat Building, Reinforced Fiberglass, Shipyard use, Ministry of Defense-Army, Navy, Air Force, etc.
Capacity Features
Excellent sawing work of various materials, trims or shapes sheet metal, plastics, plates, fiberglass, plywood, or cut pipe, rod, bar in any place.

Available anywhere in ship, in oil tank, in mining tunnel, in construction site, in plant, in water, for rescue work, in car accident, etc.

Most versatile maintenance tool-used throughout industry.

Clean and burr-free cuts with standard hacksaw blades.

Adaptable for cutting a variety of materials with proper saw blades.

Ideal for sustained usage and suitable for the most awkward places.

Used throughout fiberglass boat building and car body repair shop industries.

Powerful enough to easily and quickly cut through steel-flexible enough to enough to efficiently and accurately cut in even the most awkward place.
Construction Features
Designed with a patented vibration reduced mechanism to ensure the lowest vibration and most operator comfort.

Few moving parts means breakdowns are virtually eliminated-ensuring total reliability and long trouble-free service.

Safety Switch-essential for when changing blades.

Quiet in operation-enables you to use it anywhere.

Electro-chemical treated bores giving long-wearing quality.

Slim, compact and lightweight design for easy portability.

Blade and work piece cooled by exhausted air and oil.

Special alloy steel made Nosepiece ensures the highest level of durability.

Automatic and visible lubrication.

Extremely low air consumption. Operates on normal compressed air supply.

Safe to use in non-flame areas.

45MM stroke length and ability to accept short pieces of blades making it ideal for cutting in confined spaces and "Double skin" panels.
Specification:
Blows Per Minute: 1200 bpm

Stroke Length: 45 mm

Avg. Air Cons.: 4.6(130) cfm(l/min)




Net Weight: 6.17(2.8) lbs(kgs)

Air Inlet Size: 1/4 inch-NPT/PT

Min. Hose Size: 3/8(10) inch(mm)

Vibration: 5 m/s2

Sound Pressure: 85 dB(A)
Cutting Capacity

Pipe Material

Steel

Steel

Steel

Wall Thickness

2.4mm

3.5mm

5mm

Pipe O.D.

22mm

34mm

80mm

Saw Blade

14T.P.I Bacho Blades

Cut Off Time(sec.)

9

21

470

Test under same condition as:




1) 90psi air pressure.




2) 5kg standard load weight on the tool while testing.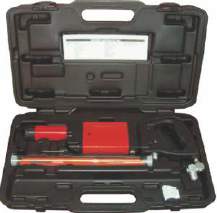 Standard Accessories:
Patented Universal Swivel Joint X 1

Carrying Box X 1

Oiler Pot X 1

Each of 300mm 14TPI & 8/12TPI




Bi-Metal BAHCO Saw Blades




(1/2″ W x 12″ L x 0.025″ T ) X 1

3mm Hex Wrench X 1

Hand Grip X 1
For ZS350D